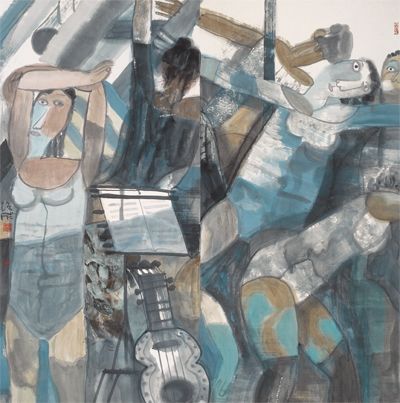 Zhang Peicheng.
"Music"
140x138cm
2007
The Chelsea Art Museum – Home of the Miotte Foundation – is pleased to present selections from the Shanghai Chinese Painting Academy. Curated by Terresa Liu Snyder and Elga Wimmer, The Harvest of Spring Blossoms introduces Chinese artists anchored in traditional painting while reinterpreting them in a contemporary fashion. The exhibition brings together some of the masters of Chinese painting, based on more than 100 years of tradition in the Shanghai Chinese Painting Academy. All the works in the show use the traditional Chinese medium of ink and watercolor on paper and display both the accomplishments of the old generation, as well as the achievements of the younger artists, who carry on the influences of the past in their new work.
Most of the work in the exhibition was created after the year 2000, with some examples of earlier paintings. A few recent works refer symbolically to the new political era (e.g. Shi Dawei, Cai Guangbing, Tian Liming, Han Shuo, Ma Xiaojuan, Chen Yuming, Che Pengfei, Tang Yongli, Li Zhenwen, Li Yang). Other paintings clearly stem from historic traditional depictions of nature and landscape (e.g. He Xi, Chen Jialing, Shen Hu, Lu Yanshao, Lin Ximing, Lin Fengmian, Zhu Qizhan, Chen Peiqiu, Zhu Min), while others contemplate symbolic language and poetry through depiction of still-life, flora and fauna, as well as portraits (e.g. Cheng Shifa, Fang Zengxian, Yang Zhengxin, Liu Jingan, Lin Ximing, Lu Fusheng, Feng Zikai, Guan Liang, Han Tianheng). Artists such as Zhang Guiming, Bao Ying, Shen Shaojun, Zhu Xinchang, Liu Tianwei, Zhang Peicheng, Zhang Leiping and Zhang Diping, clearly incorporate influences from the West into their own style, the result being that of a newer, less classic representation while respecting the high ideals of the Shanghai Chinese Painting Academy.
This exhibition is made possible through the kind support of The Shanghai Chinese Painting Academy, The Shanghai Federation of Returned Overseas Chinese, The Shanghai Overseas Chinese Foundation and The Liu Gallery.
The Chelsea Art Museum
556 West 22nd Street (at Eleventh Avenue)
New York, NY 10011
www.chelseaartmuseum.org
Tue-Sat 11am-6pm, Thurs 11am-8pm
For further Information, please contact: Nicollette Ramirez 212.255.0719 x108 [email protected]