Bjorn Ressle Art Projects and Elga Wimmer PCC are pleased to announce
Dinorah Delfin's first solo exhibition, honoring her friend and mentor Chuck Close
September 24 — October 30, 2010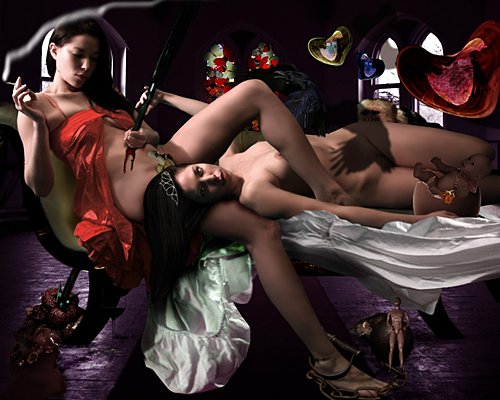 Two Figures Reclining, 2010.
Dye Sublimation Print on Aluminum 28 x 35 in, ed 3 AP.
In 2009, Dinorah had the opportunity to meet Chuck Close. At this time, she had started experimenting with digital photo collages and asked Close if he could give her some opinions and feedback. His advice and mentorship consequently became an integral part in the development of her photographic series. He gave her the confidence she needed to fully explore and develop her artistic talents. As their relationship progressed Close also decided to photograph Dinorah adding her to his series of daguerreotypes and photographs, some of which will be exhibited at the show.
Chuck Close in an interview: What Dinorah is trying to do, be a painter who makes photographs, that issue is very interesting... photography is the easiest medium in which to be competent, but the hardest medium in which to have a personal vision... They're excellent photographs... They're very a painter's attitude, a painter's vision.
Web link to the interview/conversation with Chuch Close, Dinorah Delfin and Bjorn Ressle published in M Magazine, April 10: http://www.thenewyorkartworld.com/2010/04/currentReviews.html
Delfin's artworks exhibit great influence by Renaissance masters, in particular Caravaggio, but with a contemporary edge: A nude holding a camera, a figure resembling a comic book heroine, a doll holding a machine gun etc. Contentwise Delfin's works explore what exists in the human condition while also experimenting with new ways of story telling and artistic process. Her images are about expressing conflicting drives, feelings and morals that are in constant battle for prominence in the psyche. Her work is a visual interpretation of diametrically opposed inner dialogues. "They are poems or melodramas about self-discovery, pain, forgiveness, hope, unconditional love, deception, but I think I always end up making references to the internal struggles we experience in protecting ourselves from our worst enemy, which is yourself." - Delfin
Dinorah Delfin is dedicating her first solo exhibition to Chuck Close to show appreciation for his invaluable support and generous contribution to her development as an artist.